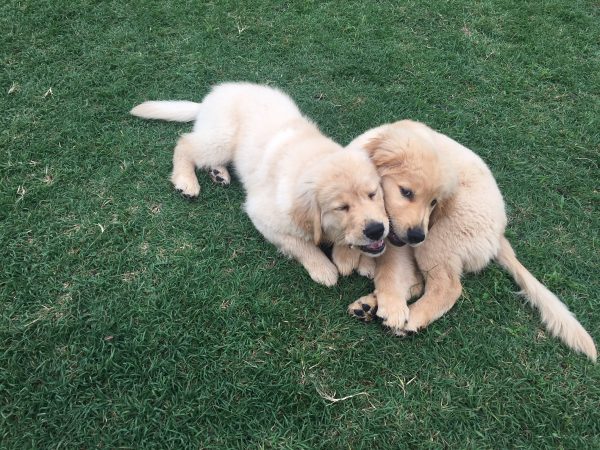 Are you considering bringing home a new puppy or dog, or have you recently welcomed one into your home? First, congratulations! One of the first feats of responsible dog ownership is initiating the process of potty training. Here are some must-know facts about potty training to keep your house tidy and pup happy:
When to start + how long it takes
Puppies usually begin potty training between 12 to 16 weeks of age once they are old enough to control their bladder. This process can take around 4 to 6 months. If your dog is older than the 12 week mark and still requires potty training it could take longer, but you can expect to follow the same steps to encourage them to use the bathroom outside only.
Step 1: Work Off a Feeding Schedule
The first step to successful potty training is to establish a healthy feeding schedule for your dog. Offer your pup an appropriate portion of food in the morning and/or evenings. Be sure to avoid feeding your dog between meals and take away your dogs unfinished food, this will encourage regular bowel movements and reduce mid-day accidents when you are away (see below for tips on how to treat accidents when they happen).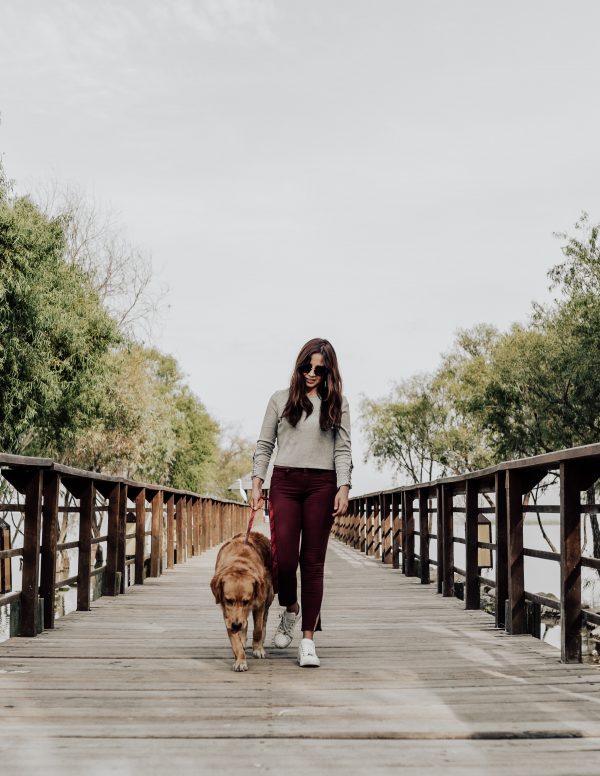 Step 2: Create a Potty Schedule
A puppy has a small bladder and will require frequent breaks. To avoid indoor accidents it is recommended to take young puppies out every 30 minutes to an hour during their training period. Once your pup is housebroken, breaks can be reduced in frequency. Create a consistent schedule, such walking them at the same time every morning and night, and be sure to schedule breaks after meals when they are most likely to go.
If you are working with an adult dog, or puppy over the age of 16 weeks, you may need to spend additional time outside with them and continue frequent breaks longer to re-train existing behavioral patterns. 
Things to Remember
Be sure to reward your dog for good behavior. Positive reinforcement, like praise or treats, encourages repetition (check out of Organic Iced Dog Cookie recipe to make your own treats!).

Be consistent! Start a ritual routine by taking your pup to the same areas during each break. This will offer them familiar scents and experiences to help them go.

Watch out for pre-potty cues like wining, barking, standing or sitting near a door or window, or other physical signs.

Keep in mind, some pets are sensitive to certain elements which impede their willingness to go, including extremely hot/cold temperatures, rain or inclement weather, illness, scents, or triggers of fear, anxiety or pain.

Try to be flexible. If your pup is having trouble going outside or seems to be continuing to have indoor accidents he/she may require additional time outside, more frequent breaks, or different conditions (including a change in food, environment, etc.).

Be sure to allow your pet a potty break immediately after any structured activity or play time, and immediately before crating or leaving them unattended for extended periods of time.
Things to Avoid
Avoid punishing your dog for potty accidents. A loving relationship will help encourage your dog to give you clues he/she needs to use the bathroom and build trust.

Avoid overfeeding your dog, or offering too many treats. These things can cause digestive trouble or require additional breaks.

If you are crate training your puppy be sure to allow them ample time outside of their crate where they can have closely monitored and structured activity with you.

Avoid letting your pup outside unattended for bathroom breaks, even in a safe fenced in backyard. Short attention spans and loads of distractions can inhibit them from going. Monitoring their activity will also give you better insight into their needs and prevent accidents later.

Avoid mixing play time with potty time. Be sure your dog knows that potty breaks are meant for exactly that. If you find your pup is easily over stimulated or encouraged to play every time you let them outside you may want to carry them out back giving them a moment to go or keep them on a lead, then re-crate them or bring them inside each time over stimulation occurs. Repeat the process until they can be calmly brought outside to use the bathroom.

Avoid stopping too soon. A few accident-free days might be a sign your headed in the right direction, but don't assume your pup has it down to a science just yet. Be sure to stick with your potty training program for an extended period of time until you feel 100% confident your pup has mastered the art.
When Potty Accidents Happen
No matter how consistent we are in our potty training efforts, accidents will undoubtedly happen! Be sure to equip yourself with quality products for easy clean up, and to help discourage repeat markings from lingering odors.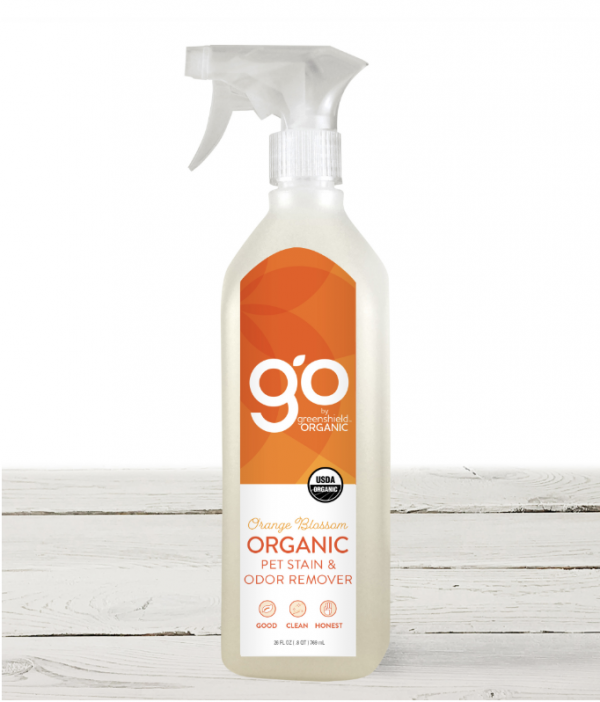 GO by greenshield organic™ Pet Stain & Odor Remover works to safely and effectively remove pet stains and odors from upholstery, carpeting and more without harsh chemicals. Our original USDA Certified Organic formula is made with pet-friendly ingredients that work to penetrate deep stains and odors, while our Orange Blossom fragrance (made with organic essential oils) refreshes home and spirit.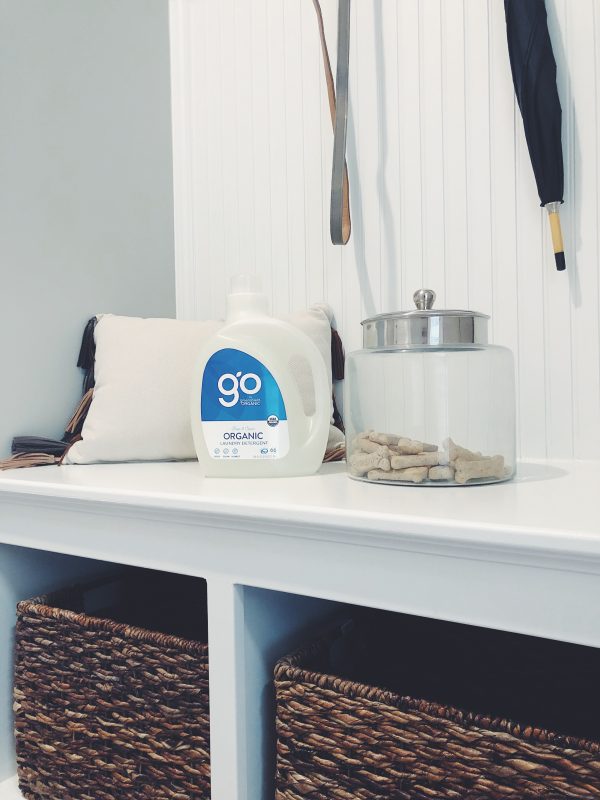 Care for your pets favorite washable toys and bed linens using GO by greenshield organic™ Free & Clear Laundry Detergent. Made with pet-friendly ingredients, your pup will be sure to appreciate a clean home without unwanted fragrances that can bother their sensitive snouts.
Tag us in a picture of your fur-baby on Facebook and Instagram for a chance to be featured on our page!
Disclaimer: This blog is for general information purposes only.  It should not be seen as medical or expert advice. While we strive to bring you accurate and professional information on topics featured one this blog, GO by greenshield organic™ makes no representations of warranties of any kind, express or implied about the completeness, accuracy, reliability, suitability or availability with respect to the website or the information, products, services or related graphics contained on this website for any purpose.