Vegan Valentine's Day Brunch
Serve up this 4-course vegan brunch to show the people, planet and animals you love a little extra TLC this Valentine's Day. Inspired by our Leaping Bunny Certified Cleaners + Detergents, each dish is made with cruelty-free, vegan ingredients. Spread love across your table or brunch in bed with Red Velvet Cinnamon Rolls, Dozen Rose Mini Quiches, Hot & Spicy "Sausage" Patties. Then wash it all down with a round of Blushing Mimosas.
Vegan Red Velvet Cinnamon Rolls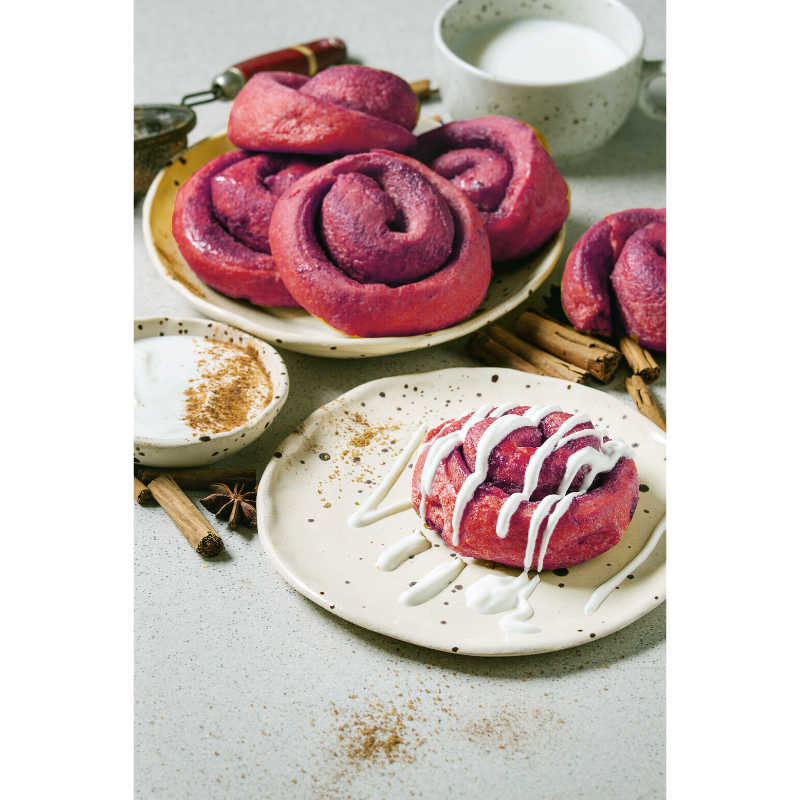 Ingredients:
Dough
All Purpose Flour | 2 cups
Organic Cane Sugar | 1 tsp
Sea Salt | 1/4 tsp
Dry Active Yeast | 1 package
Organic Almond Milk | 1 cup, warmed
Vegan Butter | 3 tbsp, melted
Organic Beet Root Powder | 1 tbsp
Organic Vanilla Extract | 2 tsp
Unsweetened Cocoa Powder | 2 tsp
Filling
Organic Cane Sugar | 1/2 cup
Ground Cinnamon | 2 tbsp
Unsweetened Cocoa Powder | 1 tbsp
Icing
Powdered Sugar | 1 cup
Organic Dairy-Free Milk | 1/4 cup *We opted for Almond Milk for this recipe to give it a little added sweetness.
Instructions:
Preheat oven to 375*F.
In a medium bowl, combine all purpose flour, beet root powder and cocoa powder. Set aside.
In a large bowl or electric mixer, whisk together the warmed almond milk, melted vegan butter, organic cane sugar, sea salt, dry active yeast, and vanilla extract. Allow to sit for 10 minutes.
After 10 Minutes, slowly add the flour mixture to the milk mixture. Mix together until well combined and a dough ball forms. Place the dough ball into a greased bowl. Cover with a towel and allow to sit for 30 minutes.
While waiting for dough to rise, create your cinnamon roll filling. In a small bowl, combine the organic cane sugar, cocoa powder and cinnamon.
After 30 minutes, roll out your dough and brush with melted vegan butter.
Next, sprinkle a nice even coating of cinnamon-sugar filling onto your greased dough.
Roll up your dough into a log shape and cut into 2 inch pieces using a serrated knife. Place your cinnamon rolls into a greased pan.
Bake for 25-30 minutes until firm or slightly golden edges appear.
Remove from oven and allow to cool before icing.
To make the icing, whisk together the powdered sugar and almond milk until smooth.
Get to frosting and enjoy!
Dozen Rose Vegan Mini Quiches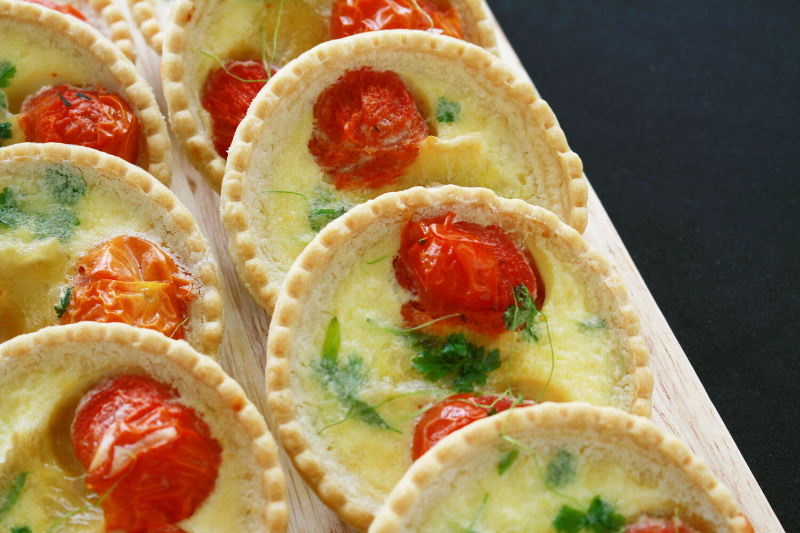 Ingredients:
Organic Olive Oil

 

| 2 tbsp
1 Small Organic Onion, diced
Organic Garlic

 

| 3 cloves, minced
Fresh Organic Spinach

 

| 3 cups
Frozen Vegan Mini Tart Shells or 1 pack of Phyllo Dough | Yield 1 dozen
OrganicExtra Firm Tofu | 1, 14-oz block, drained and pressed
Organic Turmeric

 

| 1/2 tsp
Organic Granulated Garlic

 

| 3/4 tsp
Organic Granulated Onion

 

| 1/2 tsp
Sea Salt

 

| 1/2 tsp, more to taste
All Purpose Flour

 

| 2 tbsp
Organic Unsweetened Dairy-Free Milk

 

| 1-2 tbsp
Organic Cherry Tomatoes

 

| 1/3 cup, halved
Instructions:
Preheat oven to 375 degrees F (190 C)
Heat oil in a large skillet over medium heat. Add onions and sauté for 3-5 minutes until softened and lightly browned. 
Add garlic and sauté for 30-60 seconds until lightly golden and fragrant. 
Add spinach and cook until just wilted, about 1-3 minutes. Remove from heat and set aside. 
Break up the tofu and place in a food processor or blender. Then add seasonings, milk and flour. Process until the mixture is a smooth and thick consistency. Add in 1 more tablespoon of milk at a time if mixture remains too thick or chunky.
Pour blended mixture into a medium mixing bowl. Fold in the spinach mixture until throughly combined. 
Pour mixture in mini tart shells or phyllo dough until 3/4 full, spread evenly.
Add the cut cherry tomatoes on top and gently press down so they are slightly in the mixture.
Bake in the oven for 30-40 minutes until the quiche firms up and is golden on top. Remove from oven and let cool for 10 minutes before serving. 
Hot & Spicy Vegan "Sausage" Patties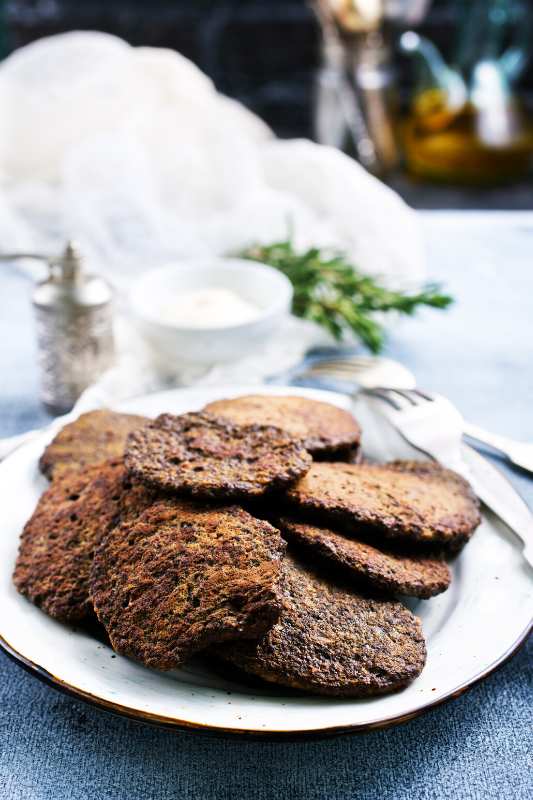 Ingredients:
Organic Tempeh | 2 cups
Medium White Onion | 1/4, diced
Garlic | 4 cloves, minced
Organic Brown Sugar or Coconut Sugar | 1 tsp 
Sea Salt  | 1/2 tsp 
Black Pepper | 1 tsp, ground
Dried Sage | 1 1/2 tsp 
Dried Thyme | 1 1/2 tsp 
Paprika | 1 1/2 tsp
Fresh Rosemary | 2 tbsp, chopped
Nutmeg | 1/8 tsp, ground
Cayenne Pepper | 1/4 tsp, ground
Red Pepper Flakes | 1/4 tsp, to taste
Vegan Worcestershire Sauce | 2 tbsp
Instructions:
Finely chop tempeh and add to a large mixing bowl or a food processor.
Add in remaining ingredients.
Mix until thoroughly combined.
Taste and adjust flavor as needed. Feel free to add additional paprika, cayenne pepper, red pepper flakes, salt or brown sugar brown as needed.
Cover mixture and refrigerate overnight, or for at least 2 hours and up to 3 days to allow the flavors to develop.
When ready to cook, measure out 1/3 cup of mixture and press to form 1/2 inch thick patty. Repeat. Recipe yields 5-6 patties.
Heat a large skillet over medium heat. Once hot, add 2-3 tbsp oil. Place patties into pan. Sprinkle with salt and pepper.
Cook each side for 3-4 minutes or until brown.
Serve immediately.
Store leftovers in the refrigerator up to 3-4 days or in the freezer up to 1 month. In addition you can store uncooked patties in freezer for up to 1 month. Thaw before cooking/reheating.
Vegan Blushing Mimosas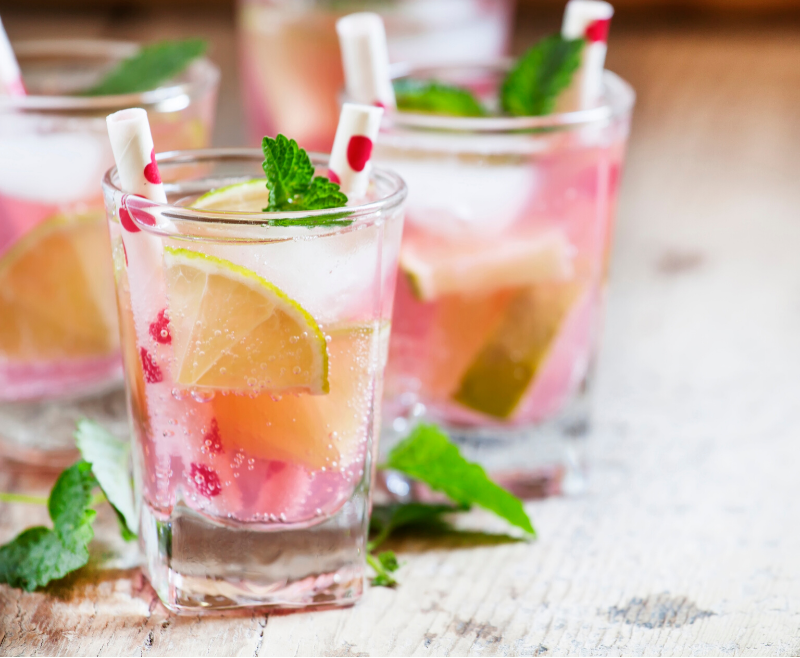 Ingredients:
White Rum  | 2 ounces
Grenadine | ½ ounce
Organic Lime Juice | 1 ounce
Soda, to top
2 Organic Strawberries
6 Organic Mint Leaves
Instructions:
Combine rum, grenadine, strawberries, and mint in a cocktail shaker with ice.
Shake to chill and combine.
Pour entire contents into a glass.
Garnish with a fresh mint sprigs and strawberry
Sip, savor and love!
P.S) Keep it clean this Valentine's Day with Organic Lavender Laundry Detergent, Honeysuckle Baby Dish Soap and Mint Multi-Surface Wipes

available online or at a store near you

.