Healthy Coconut-Chocolate Popcorn
Craving something sweet that won't sabotage your wellness goals? Low-calorie Dutch-processed cocoa powder makes this chocolatey-coated popcorn a sweet treat with a heaping of fiber and iron, without any sugar. Toss in coconut oil and coconut sugar and you add a touch of potassium, healthy fats, and inulin. Inulin is a starchy substance that helps glucose digest more slowly in the body.
Air-popped popcorn has only 30 calories per cup making it a perfect snack option for those of us who just want something to munch on throughout the day. When not slathered in butter, popcorn contains no cholesterol, is virtually fat-free, and just one serving can provide about 70% of an individual's recommended daily intake of whole grain. Popcorn also contains a number of essential vitamins including: iron, folate, niacin, riboflavin, thiamin, pantothenic acid and vitamins B6, A, E and K.
Let's get popping!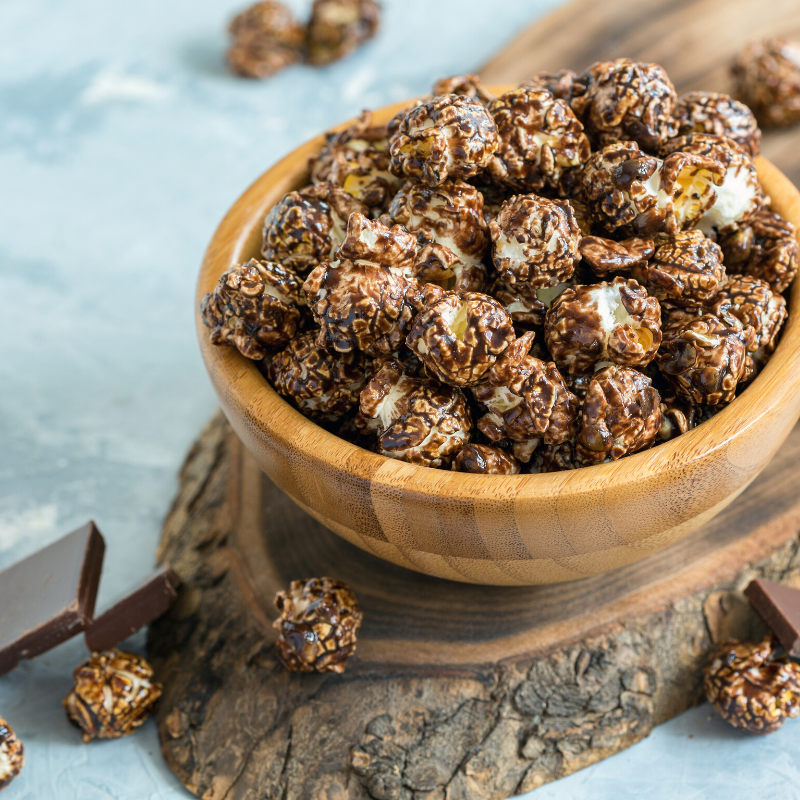 Ingredients
5-6 cups air-popped popcorn

2 tbsp Dutch-processed cocoa powder

1 tbsp coconut sugar

1 pinch sea salt

1 tbsp extra virgin coconut oil
Directions
1. In a brown paper bag, add 1/4 cup un-popped corn kernels and fold over 2-3 times. Cook in the microwave on HIGH for 3 minutes. DO NOT LEAVE UNATTENDED WHILE POPPING. Stop microwave when popping slows to 1 to 2 seconds. *Phew one less dish to clean but be sure to recycle your brown paper bag or save it for the next time you cook up air-popped popcorn!
2. In a small mixing bowl, combine the Dutch-processed cocoa, coconut sugar and sea salt. Mix well.
3. Next, place 1 tbsp extra virgin coconut oil in a small bowl. Heat in the microwave for 5 to 10 seconds or until melted
3. In a large mixing bowl combine the popcorn and melted coconut oil. Toss until thoroughly coated. Top with the cocoa mixture and stir gently until fully coated. Enjoy!