Vegan No-Bake Granola Bars Done 3 Ways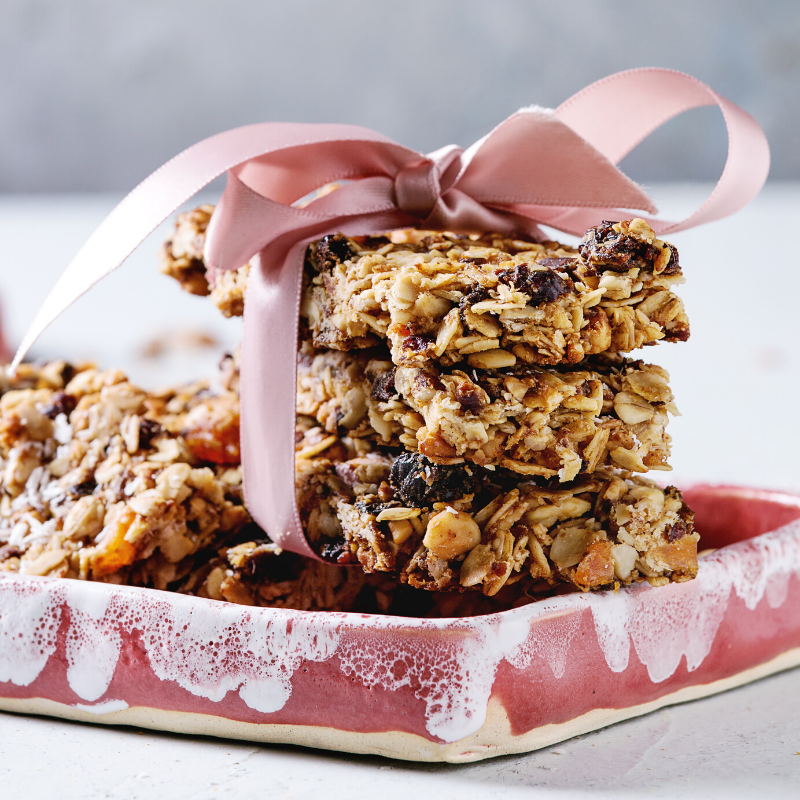 Loaded with fiber and protein, no-bake granola bars provide an easy and nutritious snack the whole family will love. Whip up one of our three varieties below, or create-your-own using any extra ingredients you like.
We've taken a foundation of vegan ingredients and added in tasty extras like agave, hemp seeds, vegan chocolate chips, nuts and raisins to create three unique varieties, including:
Chocolate Chip Granola Bars

Cinnamon Raisin Granola Bars 

Peanut Butter Granola Bars
No-bake granola bars can be lightly toasted later for a warm treat at the office or chilly evenings at home. Let your friends and family pick their favorite kind and be sure to serve them up at your next holiday event. Tie a variety of bars together with decorative ribbon and pack in re-usable mason jars to create a special and sustainable gift.
Dry Ingredients
1 ½ cups rolled oats

½ cup oat flour

½ cup unsweetened, shredded coconut

¼ teaspoon salt
Wet Ingredients
2 flax eggs (whisk together 2 tablespoons ground flax + 6 tablespoons warm water, let set for 15 mins)

¼ cup melted coconut oil

½ cup natural, unsalted almond butter

1/3 cup pure maple syrup

2 teaspoons pure vanilla extract
Add-In's (Done 3 Ways):
Option 1 (Chocolate Chip Granola Bars):
3/4 cup vegan mini chocolate chips or cacao nibs

1/4 cup ground flaxseed
Option 2 (Cinnamon Raisin Granola Bars):
1/2 cup raisins

1/2 tbsp cinnamon

1/2 cup chopped walnuts (optional)
Option 3 (Peanut Butter Granola Bars):
½ cup hemp seeds

1/4 cup peanut butter

1 tbsp agave nectar
Instructions
Line a 9×9 baking pan with parchment paper or wax paper. Set aside.

In a large bowl, whisk together all of the dry ingredients.

In a separate medium bowl, whisk together all of the wet ingredients until smooth.

Pour the wet mixture over the dry mixture and stir gently until well combined. Fold in extra ingredients of choice.

Spread granola bar mixture into the prepared baking pan. Press down until and even and tightly packed layer has formed.

Place baking pan in freezer for 15-20 minutes.

Remove from freezer. Lift bars out of the baking pan. Set onto an even surface and slice into 12-18 bars. Serve as desired and enjoy!

 

*Crumble bars and serve with ice cream and fresh fruit to provide a healthier dessert alternative at your next holiday gathering.