Vegan Jackfruit BBQ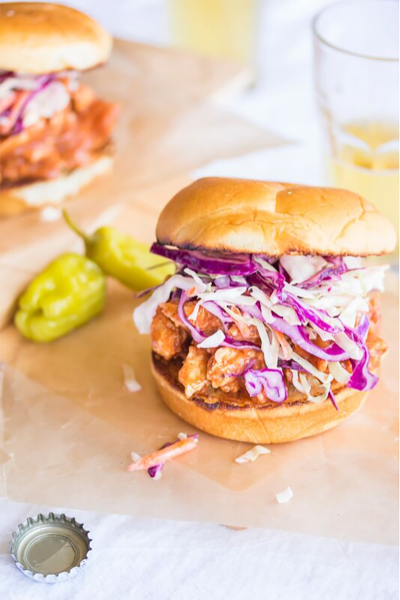 The jackfruit has plenty to offer everyone. Weighing up to 80lbs, this exotic jumbo-sized fruit is filled with flavors ranging from mellow-to-sweet as it matures. When split open you'll uncover more than just its tasty pods (or avrils). Its edible seeds can be cooked and enjoyed for a savory snack later. With a dense meat-like texture, the jackfruit avrils can be transformed into vegan and vegetarian-friendly twists on beloved meaty classics like BBQ, and more.
As you may know, our team at GO by greenshield organic™ is proud to call Raleigh, NC home. And given our love for a good authentic Carolina BBQ sandwich, this recipe has quickly become an office favorite.  In honor of World Vegetarian Day and our commitment to cruelty-free, vegan cleaning products we hope you are inspired to give this delicious fruit a try!
VEGAN BBQ JACKFRUIT
Prep Time: 45-60 minutes
Yield: 4-6 sandwiches

Ingredients
1 large organic young jackfruit

1/4 cup BBQ seasoning (2 tbsp organic brown sugar, 1 tsp organic paprika, 1 tsp organic garlic powder, 1/2 tsp salt, 1/2 tsp organic pepper, 1/2 tsp organic chili powder)

3/4 cup BBQ sauce of choice (ensure it's vegan and organic!) or make your own w/ our recipe below

Cooking oil of choice
Instructions
Rinse, drain, and thoroughly dry jackfruit to remove any sap or dirt. Slice the jackfruit in half lengthwise. Cut away the white "core" portion of the fruit and discard. Separate and remove

 

the pods or bulbs of fresh fruit (also known as avrils) from between the fibrous portion (rags). Place in a mixing bowl and set aside. TIP: Save the jackfruit seeds and boil or roast them later for an enjoyable snack similar to chestnuts! Discard the remaining portion in your compost or trash bin.

Mix together BBQ seasoning and add to jackfruit. Toss until thoroughly coated.

Heat a large skillet over medium heat. Once hot, coat pan with 1-2 tbsp of oil, and add seasoned jackfruit (use more oil as needed). Toss to coat and cook jackfruit for 2-3 minutes to achieve some color.

Add BBQ sauce. Depending upon how juicy your jackfruit is, you may opt to thin your sauce with water (adding 1 tsp at a time) until desired consistency is achieved. Stir and reduce to medium-low heat and cook for 25-35 minutes.
Vegan Carolina-Inspired BBQ Sauce
Combine the following ingredients in a medium mixing bowl until smooth:
1 1/2 cup organic tomato sauce
3 tablespoons organic tomato paste
1 tablespoon organic molasses
1/4 cup organic coconut sugar or organic brown sugar
2 teaspoons organic apple cider vinegar
1 tablespoon organic chilli powder
1 teaspoon organic onion powder
1 teaspoon organi garlic powder
3/4 teaspoon organic paprika
1/2 teaspoon organic mustard powder
1 teaspoon salt
Remove lid and stir occasionally. TIP: For finer texture, use two forks to shred the jackfruit as it cooks down.

Once the jackfruit has been properly simmered, turn up heat to medium-high and cook for 2-3 more minutes to get a little extra color/texture. Then remove from heat.

Top as desired and serve! We love using a vinegar-based coleslaw for some extra crunch, or opt to create a vegan creamy slaw by substituting mayonnaise for avocado.
Disclaimer: This blog is for general information purposes only.  It should not be seen as medical or expert advice. While we strive to bring you accurate and professional information on topics featured one this blog, GO by greenshield organic™ makes no representations of warranties of any kind, express or implied about the completeness, accuracy, reliability, suitability or availability with respect to the website or the information, products, services or related graphics contained on this website for any purpose.