Vegan Chocolate-Coconut Ice Cream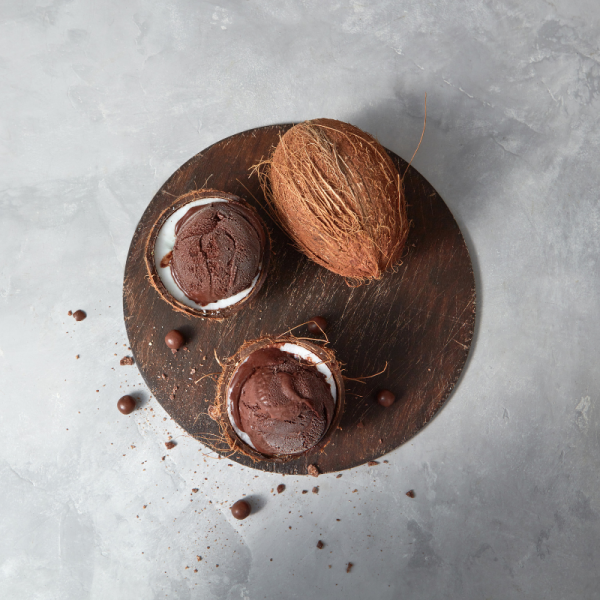 Nothing is sweeter than cruelty-free! This vegan ice cream skips out on all the dairy, without skipping out the creamy texture and flavor you crave. Made with unrefined sweeteners and organic coconut milk (inspired by our coconut oil-infused Organic Laundry Detergent) full of metabolism-boosting fats and nutrients, this dreamy ice cream provides a healthier twist on an all-time summer favorite. The bitterness of cacao perfectly balances the sweetness of coconut giving it a rich and indulgent flavor with every melt-in-your mouth bite.
Prep Time: 8-9 hours
Ingredients
3 1/2 cups full-fat organic coconut milk (unsweetened)

2 tbsp extra virgin coconut oil

1/2 cup sweetener of choice (cane sugar, coconut palm syrup, maple syrup or agave work great!)

4 tbsp organic cacao powder (*please note this is not the same as cocoa powder)

2 tbsp cornstarch or arrowroot starch

2 tsp of organic vanilla extract

1/2 tsp of salt

Optional: Nuts, chocolate or carob chips, cacao nibs, or fruit purée
Instructions
Step 1: Place ice cream machine churning bowl in freezer at least 24 hours in advance.
Step 2: Once your ice cream machine bowl is fully frozen you can begin mixing your ingredients. *Do not remove your bowl from the freezer until Step 6.
Before opening your cans of coconut milk be sure to shake them thoroughly to help the liquid reincorporate. Once shaken, set aside 1/2 cup coconut milk in a small bowl. Pour the remaining coconut milk into a saucepan over low to medium heat and combine with sweetener of choice and salt, stirring occasionally until the sweetener is fully dissolved (about 1-2 minutes).
Step 3: Add the starch to the reserved 1/2 cup coconut milk and whisk until the starch is totally dissolved. Pour coconut milk and cornstarch mixture into your saucepan and whisk to combine. This is your ice cream base.

Step 4: Heat the ice cream base until thickened, increasing the heat to medium. Add in coconut oil. Stir until the base has thickened enough to coat the back of a spoon (about 6 to 8 minutes). *Do not allow the base come to a boil.

Step 5: Remove the base from heat and stir in the vanilla and cacao powder. Pour the base into a shallow container and allow to cool slightly (about 5-10 minutes). Once cooled, press a piece of plastic wrap against the surface to prevent a skin from forming. Cover the container and refrigerate for at minimum of 4 hours (or for up to 3 days) until a slightly pudding-like texture forms.

Step 6: Once your base is completely chilled remove your ice cream machine bowl from the freezer. Add the mixture and begin churning until your ice cream reaches the consistency of soft-serve. Depending on your machine, this may take anywhere from 10 to 20 minutes. Once thickened, slowly add in any additional ingredients, churning until combined.
Step 7: Transfer your ice cream to a freezer container and cover with parchment or wax paper to prevent freezer burn. Seal the container with a lid and place in freezer for a minimum of 4 hours until hardened. Finished ice cream can be frozen for up to 2 months. Serve using a warm ice cream scoop or spoon. *If ice cream is too hard to scoop, allow it to thaw out for a few minutes for easier handling. Top with coconut flakes, chocolates or fresh fruit and enjoy!