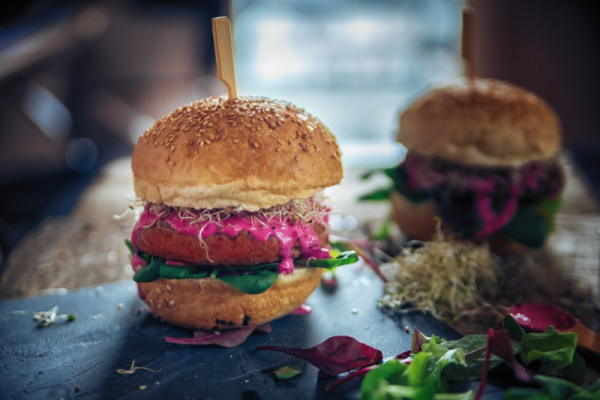 Vegan Black-Beet Burgers
PREP TIME
20 minutes
COOK TIME
40 minutes
TOTAL TIME
1 hour
Servings: 8-10 (patties)
Ingredients:
3/4 cup cooked quinoa

1/2 cup of red onion, finely diced

1 cup shiitake mushrooms,  finely chopped

1 cup black beans, well rinsed and drained

1 cup raw beet, finely grated

1 tsp cumin

1 tbsp garlic salt, to taste

1 tbsp pepper, to taste

1 teaspoon chili powder 

1 teaspoon paprika

1/2 cup walnuts, crushed or ground into a loose meal (replace with flour of choice for those with nut allergies)

Olive oil
Preparation:
Begin by cooking 3/4 cup quinoa according to directions on packaging.
Next, peel beets (about 2 medium sized beets) . Then grate the beets finely using a hand held grater or food processor.
Grind walnuts into finely ground loose meal using food processor, or chop as needed until desired texture is reached.
Instructions:
Heat a large skillet over medium-low heat and add some nonstick spray or a bit of olive oil. Once hot add the onion and sauté for 5 minutes until soft, season with a pinch of salt and pepper.
Increase heat to medium and add in mushrooms. Season with another pinch of garlic salt and pepper and cook until the mushrooms and onions are slightly browned and fragrant – about 3 minutes.

Remove from heat and add black beans. Mash all ingredients until rough well-combined texture forms.


Transfer the mixture to a mixing bowl or food processor, and add the quinoa, beet, and remaining spices. Stir/mix to combine.
Add walnut meal to mixture (or flour of choice), one quarter cup at a time time, until thoroughly combined. *You can use a combination of flour and rolled oats if you prefer more texture.


Coat a baking sheet with olive oil. Form mixture into roughly 8-10 round patties about 1/2 inch thick. Press patties flat using the back of a jar or cup.
Place patties in fridge. Preheat oven to 375 F (190 C).
Once oven is preheated, remove patties from fridge and brush the top of each burger lightly with olive oil. Bake for 30-45 minutes, gently flipping at the halfway mark. For crispier burgers bake for full 45 minutes or longer, for softer patties reduce baking time. You can also

 

try pan frying these or grilling on top of tin foil

 

or pan to prevent breakage.


Serve on buns or atop mixed greens and top as desired. See below for our flavorful and vibrant Beet Burger Sauce.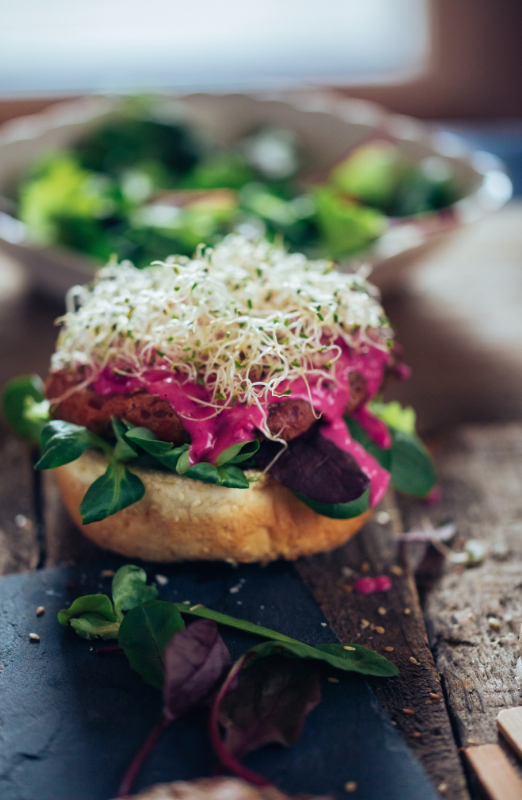 Vegan Beet Burger Sauce
PREP TIME
5 minutes
COOK TIME
50 minutes
TOTAL TIME
55 hour
Servings: 3 cups
Ingredients
7oz (200g) feta

1 pound beets (1 large beet or two small ones)

2 tablespoons extra virgin olive oil

1 squeeze of a lemon

1 pinch of salt and pepper

1/2 cup plain vegan yogurt of choice
Instructions
Preheat oven to 400°F (200°). 

Wash the beets well and wrap each one in a piece of aluminum foil. Place in metal baking dish.

Cook for 50-60 minutes until soft to a fork. *Cooking time will depend on the size of the beets. 

Once tender, remove beets from oven and allow to cool slightly. Then using a paper towel while beets are still hot yet tolerable to your touch, rub the skin off of each beet. If the skin is not easily coming off, put the beets back in the oven for a few more minutes. 

After the skins have been removed, blend all of the ingredients together. Feel free to get creative with additional seasoning and flavors.