Non-Toxic Guide To Removing Stains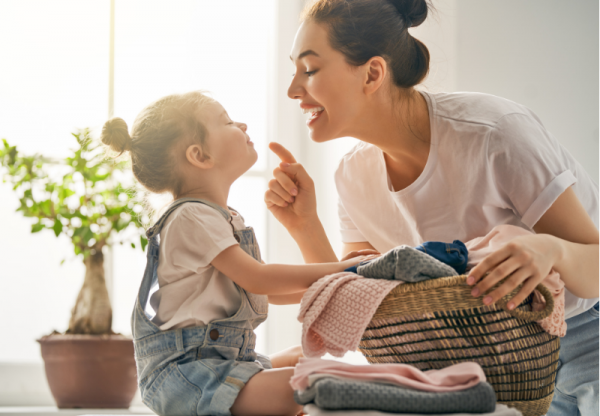 Treating stains quickly and effectively is key to restoring the beauty of your home and valued possessions. But when a stain strikes, will you be prepared? Yes. Our Non-Toxic Guide To Removing Stains will take you through the basics of stain removal, how to care for delicate items and maintain the integrity of materials during treatment, and what methods are best for treating a variety of common stain types.
There are many gentle and effective solutions that can treat stains without harsh chemicals. Non-toxic and organic cleaning products can help protect your personal health, improve indoor air quality, and safeguard our environment. Environmental Working Group's (EWG) consumer guide to Healthy Cleaning can help you navigate the often convoluted world of household cleaning chemicals. Search for products or brands to find safety ratings A through F, check ingredients, health and environmental concerns, animal testing, warnings, and directions for use.
THINGS TO CONSIDER
When treating stains it is always important to consider the type of stain, the type of material affected, the age and severity of the stain. Before treating stains always be sure to test an inconspicuous area for colorfastness. Remove excess debris and liquid before beginning stain treatment and always check manufacturer care instructions before use.
Every stain situation is unique, so checking the care instructions of the item is key before deciding on what products and water temperatures should be used for treatment.  Regardless, one of the most effective tips for stain removal is getting the item into water before the it sets.  When unsure about water temperatures to use starting with room temperature water is a safer bet.
TYPES OF MATERIALS
Before treating a stain you should first assess the type of material it's affecting. Some materials are resistant to abrasion or can handle stronger cleaning agents while some cannot. Material-type will influence what methods, tools, and ingredients you should or should not use when treating a stain.
NATURAL MATERIALS
Natural materials include Cotton, Silk, Linen, Wool, Leather, Hemp, Jute, and many others. With an extensive variety of natural materials and fabric types it is important to assess each item individually before cleaning. Refer below to see suggested tools, methods and other important information about common natural materials:
Leather: To prevent scratches, avoid scraping or scrubbing stains with sharp tools or hard bristles. Limit water contact and dry throughly when treating stains. Clean and condition leather regularly to maintain its natural luster and durability.
Wool: Avoid over washing as it can damage the material and shape. Hand-wash whenever possible. Do not heat dry as this can cause wool to shrink.
Cotton (Velvet, Canvas, Chenille, Corduroy): Cotton makes up a variety of fabric types with some being more durable than others. However, cotton can usually handle the majority of treatment methods required for most stains.
Jute and Hemp Rugs: These durable natural fibers are beautiful and do best with regular vacuuming in low traffic areas. If stained or dirtied, scrape excess debris with dull knife, blot with white towel to remove excess liquid, or scrub lightly with a soft bristle brush when necessary. Ensure material is kept dry to prevent mold or mildew growth.
Silk: Avoid all forms of heat and harsh chemicals when treating stains on and caring for silk fabrics. Check the labels of garments as individual silk items may vary in their recommended care instructions.
Linen: Linen is a delicate fabric made with cotton or flax fibers that can become easily damaged by stains. Do not squeeze or press the linen as it can cause the stain to penetrate deeper into the fibers. Act quickly, shake off excess liquid, and gently scrape any debris away with edge of spoon or butter knife if needed.
SYNTHETIC MATERIALS
Synthetic materials include Viscose/Rayon, Spandex, Nylon, Polyester, Vinyl, Polypropylene, Polyester, Synthetic Leather (PVC or polyurethane plastic), and many others. Synthetic materials are known for their durability, but are often prone to damage from things like hot washing and drying.
For synthetic materials is is always best to spot treat stains individually whenever possible, or set on a gentle cycle with warm to cold water temperatures and air dry to avoid damaging plastic fibers from heat.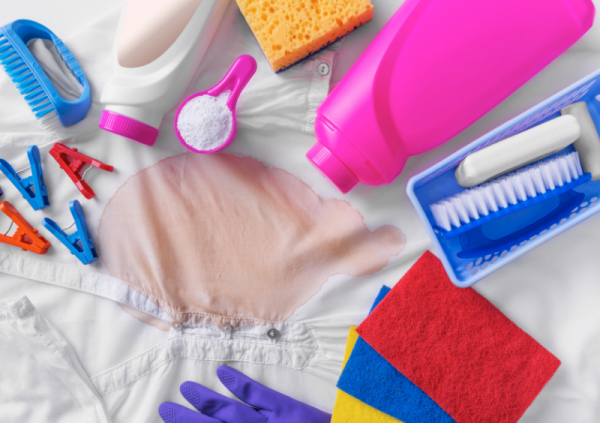 TYPES OF STAINS
Once you've assessed what type of materials your items are made with, you are ready to move on to stain treatment! The type of stain, and what it is individually comprised of, will influence what ingredients and methods should be used to treat it most effectively. Below is a list of common stains and generally recommended* treatment options that work with most material types: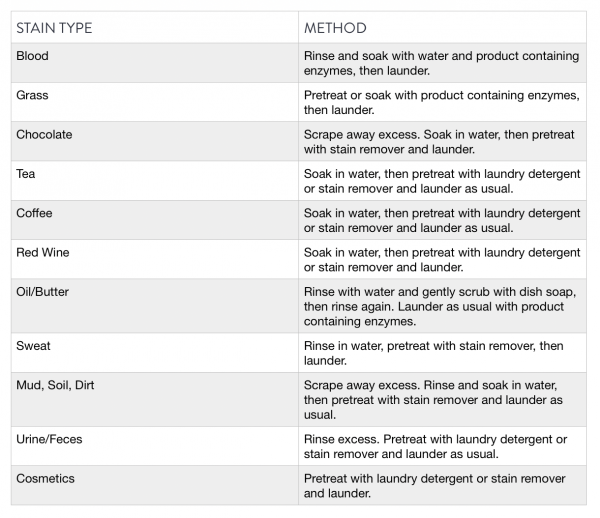 PRE-TREATMENT
GO by greenshield organic ™ has products great for tackling stains on clothing, upholstery, carpeting, and hard non-porous surfaces. See below for which products can help and usage instructions: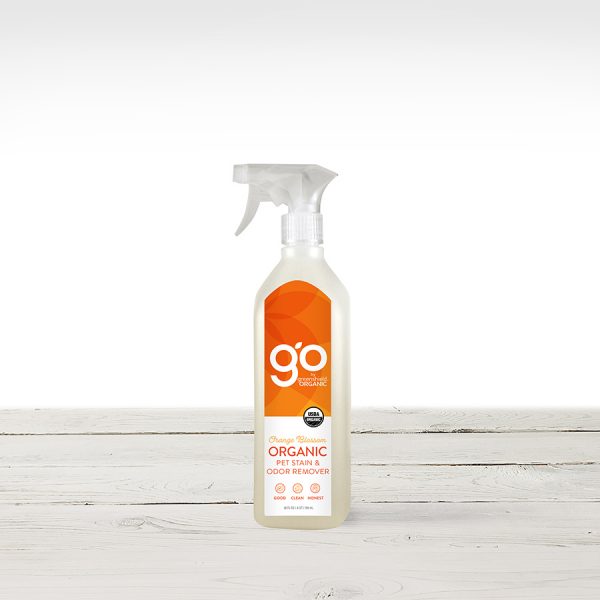 Our Organic Pet Stain and Odor Remover does more than tackle tough pet messes like urine and feces, it works great at treating a variety of stains on carpeting and upholstery and can be used as a laundry pre-treatment before washing.
Carpeting and Upholstery: Prior to treating stains on carpeting be sure to remove any excess liquids, soil, and debris. You can do so by gently blotting the area with paper towels or a cleaning rag, vacuuming to surface and removing large debris by hand. Next, apply an ample amount of Organic Pet Stain & Odor Remover to the affected area, starting outside the spot and working your way to the center to avoid spreading the stain. Wait 2-3 minutes, then blot with a clean towel. Repeat if necessary.
Hard Surfaces: To treat stains and odors on non-porous or sealed surfaces, apply an ample amount of Organic Pet Stain & Odor Remover to the stain and allow to rest for 2 minutes. Wipe thoroughly and repeat as needed.
Laundry: Before beginning stain treatments on laundry always refer to manufacturer cleaning instructions. Begin by saturating the stain and/or odor areas directly with Organic Pet Stain & Odor Remover. Then wash as usual. Repeat as necessary.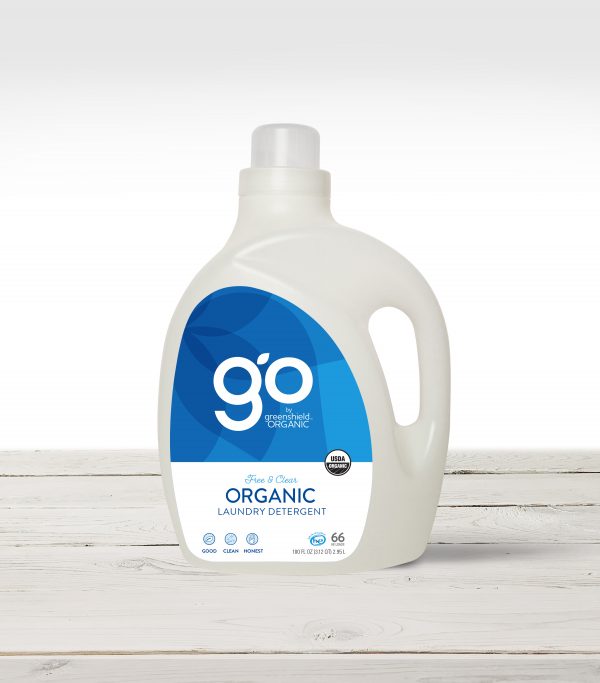 Our Organic Laundry Detergent varieties do more than just wash clothes, they can be used as a laundry pre-treatment solution to treat a wide range of stains.
Laundry: Pour laundry detergent directly onto stained fabric. Rub gently. Allow to soak before washing.
*Sources: American Cleaning Institute
Disclaimer: Material and information on this blog is intended for entertainment and informational purposes only. All information on the blog is provided in good faith, however, we make no representation or warranty of any kind, express or implied, regarding the accuracy, adequacy, validity, reliability, availability or completeness of any information on the blog. GO by greenshield organic™ does not accept any liability for loss or damages incurred as a result of the use of the blog or information provided on the blog.