Honeysuckle: Benefits and Uses
While sweet summer comes to a close, the smell of autumn setting in acts as a gentle reminder to harvest summer's last bounties. Whether wandering through your home garden, a quiet woodland, or a curbside patch of greenery you're sure to find one thing—honeysuckle.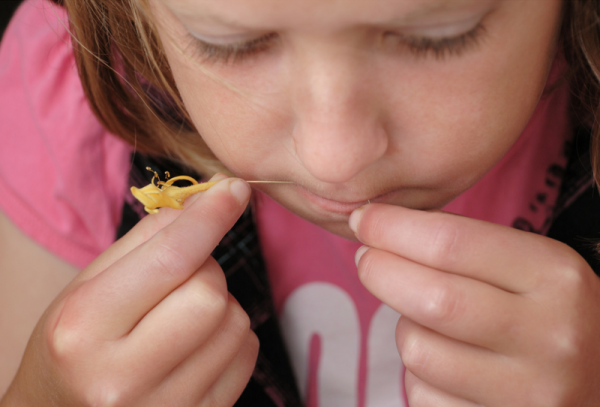 Beloved for its aroma, yet often deplored by most seasoned gardeners for its invasiveness, honeysuckle brings back fond childhood memories for most in Plant Hardiness Zones 4 through 10. But the benefits of Honeysuckle extend far beyond the delightful summer pastime of sucking sweet nectar from its pedals. Foraging for fresh honeysuckle is an immediately rewarding activity, and when dried or preserved the blooms can be used creatively when not in season.
Benefits
Mainly regarded in traditional Chinese medicine, the Honeysuckle has long been used as a natural home remedy to treat inflammation, stomach upset, upper respiratory infections, fever and more. Japanese Honeysuckle in particular has been shown to offer numerous pharmacological benefits. According to scientific studies, Japanese Honeysuckle's unique antimicrobial properties defend against several harmful bacteria associated with staph, strep, e. coli, cholera, salmonella, pneumonia, meningitis, tuberculosis, and dysentery.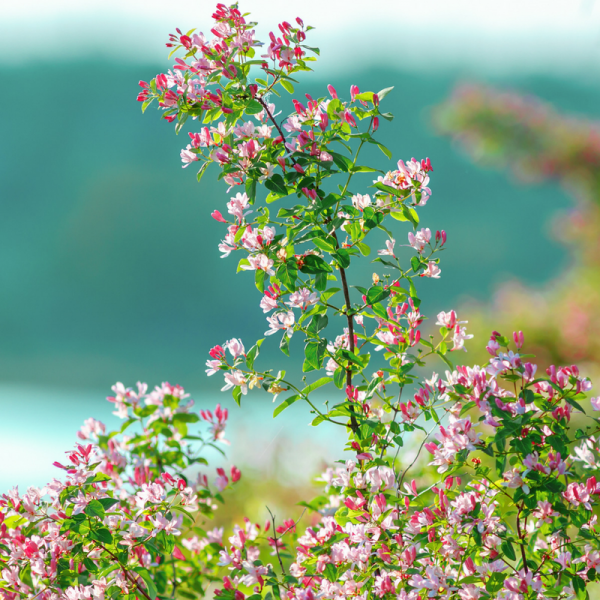 In addition, certain varieties can help treat the following ailments when used correctly:
Inflammation/swelling

Digestive disorders

Skin inflammation/itching

Boils/sores

Bacterial or viral infections

Colds/fevers
Honeysuckle is a known laxative and diuretic, antioxidant, and promotes sweating and detoxification of the body (in turn lowering fever during sickness). Although some health benefits demand further research, this flowering plant makes a tasty addition to various recipes and is often simply enjoyed for its subtle sweetness and aroma.
Uses
Extract the benefits and delicious flavors of honeysuckle by making a simple syrup, tincture or glycerite. Then it is time to get creative! Honeysuckle syrup will jazz up your favorite recipes and doubles as an unusual sweetener replacement with delightful floral notes. Create a tincture to harness honeysuckle's reported health benefits year round, or whip up a sweet kid-friendly glycerite instead. Let's get started!
Homemade Honeysuckle Syrup
Homemade honeysuckle syrup is an easy way to add a light, sweet flavor to your favorite recipes and drinks, and enjoy some of the added health benefits of wild honeysuckle. This simple recipe calls for basic sugar, but feel free to substitute it with honey for a healthier antioxidant-rich syrup.
Yields 1 cup
Ingredients
1 cup fresh honeysuckle flowers
2 cups water
1 cup sugar or honey
Cheesecloth, ladle, or mesh strainer
1 resealable jar
Marker/pen and/or label
Directions
Add water and honeysuckle flowers to a small saucepan. Turn heat to high and bring to a boil. Once the water reaches a boil, reduce heat to low or medium-low and allow the mixture to gently simmer until the liquid is reduced by half.

Strain the honeysuckle flowers from the liquid and compost them. Combine the honeysuckle flower water with sugar (or honey) and stir until the sugar is completely dissolved. Feel free to place this back on the stove and heat it a bit, if needed.

Pour your honeysuckle syrup into a glass jar. Seal tightly with lid and store in refrigerator for up to 6 months. Be sure to label and date the jar, and always check syrup for any signs of mold growth before use due to its sugary contents.

How To Use
Add to tea or carbonated water for an uplifting and refreshing take on the ordinary.

Substitute plain honey, pancake syrup, or other sweeteners in your favorite recipe for a delicious twist.

Top your favorite desert, ice cream, oatmeal or pancakes with Honeysuckle Syrup for a touch of class and botanical flavor.

Sweeten herbal tinctures (see recipe below!) to give your health regime a yummy boost.
Homemade Honeysuckle Glycerite/Tinctures
Tinctures are potent liquids made by extracting the beneficial properties of herbs and other botanicals in a solvent. Tinctures, usually made with liquid alcohol, preserve the active ingredients of the plants, boast a long shelf life and can easily be added to water, juice or teas. They can also be taken alone, straight from a dropper. Similarly, Glycerites rely on vegetable glycerin as the main method of herbal extraction, creating a sweeter and alcohol-free extract.
Yields 1/2 cup
Ingredients
1/2 cup fresh honeysuckle flowers
1/2 cup 80 proof alcohol or food-grade vegetable glycerin
Cheesecloth, ladle, or mesh strainer
1 resealable jar
Marker/pen and/or label
Directions
Fill a clean glass jar with Honeysuckle blossoms and unopened buds, leaving about a half an inch of room at the top. Fill the jar with food-grade vegetable glycerin (or alcohol, like Everclear) covering the honeysuckle, again leaving half an inch of headspace. Stir the mixture and seal the jar tightly. Place in a sunny window and leave to infuse for one month. Shake the jar daily. At the end of the month, strain the flowers from the liquid and compost them. Reseal the honeysuckle glycerite, and mark and date for storage in a cool dark place. Good for use up to 5 years.
How To Use
Add a few drops to tea, water or cocktail. Avoid adding the tincture to hot beverages to retain potency. Be sure any liquids have cooled close to room temperature before adding.

Place a few drops directly under your tongue daily.
Featured Recipe
Inspired by mommy and foodie Dzung Duong of Honeysuckle Catering, we decided to use our Honeysuckle Syrup to create a special end-of-summer treat!
No-Churn Honeysuckle Ice Cream
Enjoy the last flavors of the season before pumpkin-spice takes over with this sweet summery No-Churn Honeysuckle Ice Cream. For this recipe we used our Homemade Honeysuckle Syrup, but you can also add in 1/2 cup of fresh and cleaned blossoms for a rich and beautiful treat.
Yields 2 pints
Ingredients
1 tsp. Vanilla Extract
Salt
4 tbsp. Honeysuckle Syrup
1 cup condensed milk
1 cup heavy whipping cream
Electric Mixer
1 large mixing bowl
Resealable jar or container
Directions
In a mixing bowl combine 1 cup of heavy whipping cream, 1 tsp of vanilla extract, and a pinch of salt. Mix for 2 to 3 minutes until stiff peaks form. Then add in cup of sweetened condensed milk and 4 tbsp of honeysuckle syrup and gentle mix together with spatula. Using electric mixer mix briefly until well blended. Pour mixture into containers and freeze for 4-6 hours. Enjoy!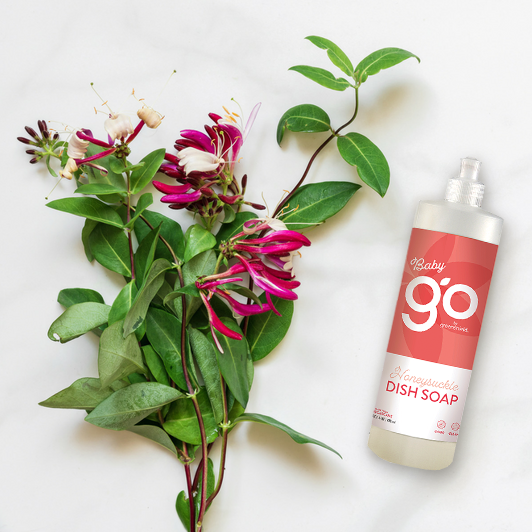 Enjoy the smell of real honeysuckle year round with GO by greenshield™ Baby Liquid Dish Soap in Honeysuckle― made with non-toxic ingredients, no harsh chemicals or sulfates, and packaged in sustainable bottles made with sugarcane.
Disclaimer: This blog is for entertainment and informational purposes only.  It should not be seen as medical or any other advice. Our writers are not medical experts so individual precautions should be considered.