Coconut Mango Powerballs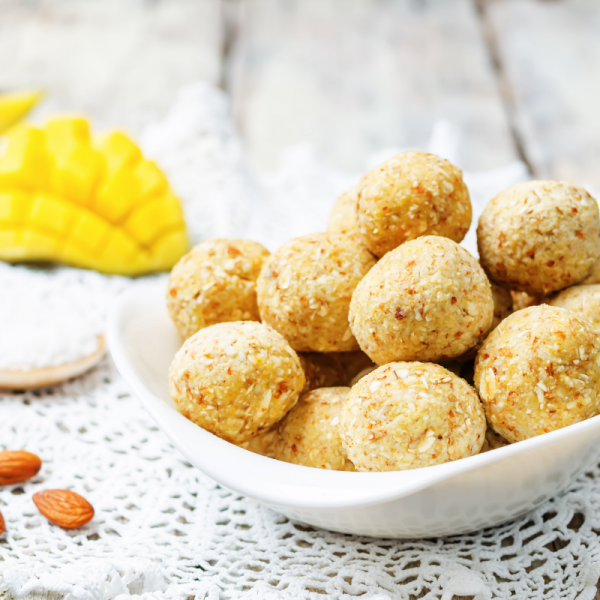 We're obsessed with coconut! We use Organic Coconut Oil in our Laundry Detergent to help give it an added dose of cleaning power, but this super food can also give you a boost of energy. And nothing beats the convenience of an energy-packed power ball!
Mango adds a sweet fruity touch to these power balls, perfect for the heat of summer. Not to mention it quenches our cravings for a sugary treat without the calories, and a little extra vitamin A, C and fiber. Did you just get chills after reading AC? We did. For this recipe we used Organic Freeze-Dried Mango from luckyvitamin.com (grab some Organic Cleaners + Detergents before you check out to earn free shipping when you spend $49 or more). Let's get started!
WHAT YOU'LL NEED:
Food Processor

1 package freeze-dried mango

1 cup raw cashews

3 tablespoons organic almond butter

2-3 tablespoons organic rolled oats

1/2 cup

shredded coconut

, plus more for rolling if desired

1 cup medjool dates, pits removed

1/2 teaspoon turmeric, for added color (optional)

1 tablespoon honey, to taste

1-3 tablespoons water, to achieve desired consistency
INSTRUCTIONS:
Add the mango to a food processor and grind until a fine powder forms.

Combine remaining ingredients, except water in food processor and blend until smooth dough-like consistency forms.

Form dough into little balls, rolling in shredded coconut if desired. If consistency is too dry and crumbles, add in 1 teaspoon of water at a time and continue to blend. If consistency is too wet, add in additional raw oats until desired consistency is achieved.

Store your Coconut Mango Power balls in a sealed container in the fridge or freezer. Enjoy!